UPDATE: Thanks to your generosity we raised over our £4000 target and our pledges rose their pledges to match!! An amazing £6204.68 was raised! This campaign has now secured funding for four first year students to continue onto their 2nd and 3rd year; to complete a BA in Theology and enter Church ministry better equipped!
Thank you to everyone who gave so generously, who ran events and who prayed for this match fund campaign. Thank you to our pledgers who also rose to the challenge with such generosity.

Our biggest thanks to the One who made this possible, God:  'Now to him who is able to do immeasurably more than all we ask or imagine, according to his power that is at work within us' (Eph. 3.v20)

Thank you for being part of this match fund campaign and allowing God to work through you and your generosity to support the next generation of Christian leaders in Burundi.
--------
Donate today and see your impact doubled* and help us release £4000 in pledged match funding!
What will donations go towards?
Four first year students at the Bujumbura Christian University - studying by faith - not knowing where the funds will come to finish their first year and continue to their 2nd and 3rd year to complete their BA in Theology. Their training will equip them as Church leaders to serve and empower their communities. Tuitions fees, book allowance and living expenses will come to between £1400 - £1550 per student per year. About £4 a day!
How much needs to be raise?
We want to start by raising £8000 ...Good news we have £4000 pledged in match funding! So, every £1 you give will be matched with another £1, up to a total of £4000! Together, by raising £4000 we actually raise £8000! Keep an eye on our fundraising page to see how close we are getting and how you can help. www.stewardship.org.uk/pages/DoubleImpact
How can I help?
This is a great excuse to come together with others and run a fundraising event and double your impact with others! Some ideas: sponsored sports event, bake sales and donations collected in lieu of birthday gifts!
Please consider donating and spread the word and/or run a fundraising event!
Thank you for your support!
* Donation received will be matched up to £4000 before 15th August 2022!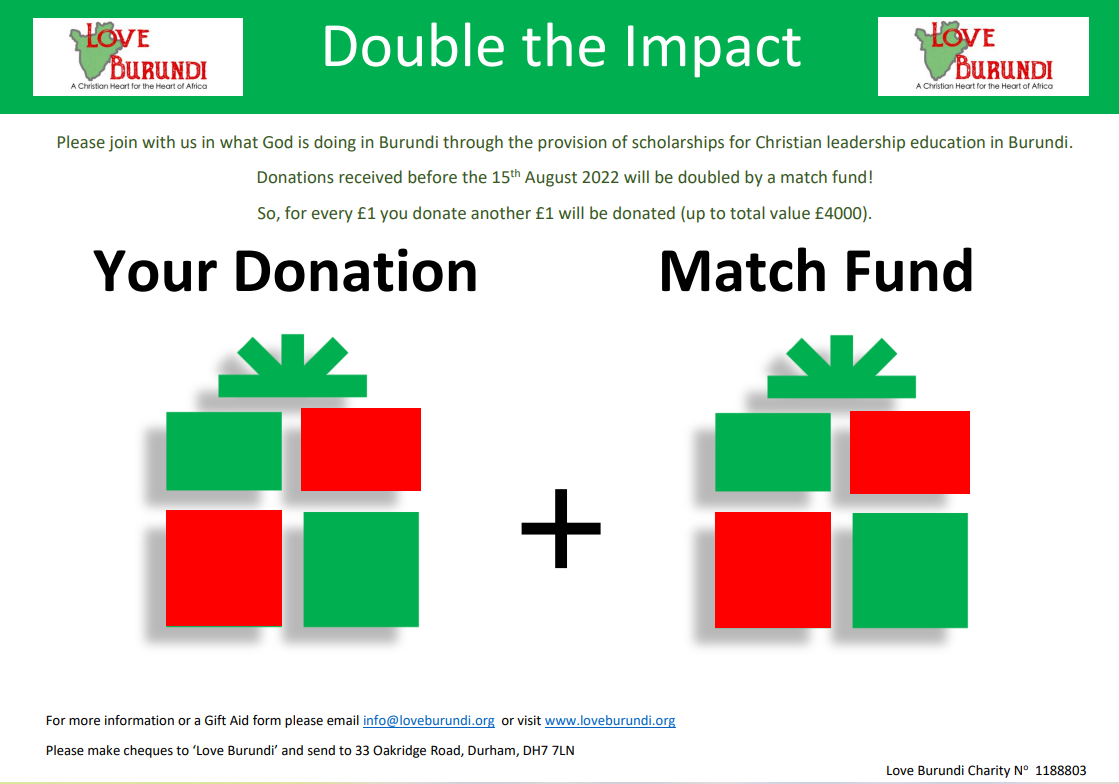 ---